The Village Connection, Inc.(TVC), a 501 c3 Charitable Youth Enrichment Organization

Combined Federal Campaign#
CFC# 69243

Maryland Charitable Campaign#
MCC# 20103



*100% of Fees and Donations Support our College Access Program
*All Donations are fully Tax Deductable
*We Welcome In-kind-Donations
*Contribute on our Payments and Donations page



Facebook:

http://www.facebook.com/thevillageconnection

Email us at: info@theconnectedvillage.org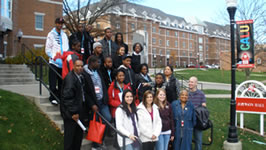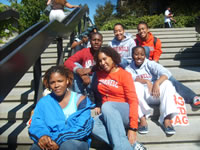 Our Purpose
Our Purpose is to generate skills and motivation necessary for success in education beyond high school among low-income and potential first-generation college students. The goal of the program is to increase the academic performance and motivational levels of eligible enrollees so that such persons may complete secondary school and successfully pursue postsecondary educational programs.
Mission

To work with traditionally underrepresented, low income, first generation high school students.
To provide academic support, mentoring, counseling, cultural awareness, career guidance, and access to campus life and college programs.
To empower students to believe in themselves and their ability to pursue and succeed in higher education.
To increase the retention, graduation, and transfer rates of low-income, first-generation college students, and students with disabilities, who have an academic need, by providing intensive individualized academic and other support services with the highest standards of integrity and professionalism.
Vision
Our Vision is that The Village Connection, Inc. programs will serve as a national model for developing middle through high school students. And to provide a support system where youth reach their full potential as well educated, empowered and emerging entrepreneurs and civic members of society with a strong foundation of history, knowledge skills and abilities. Most importantly, they will reach back and give back to the communities in which they live.
Goals and Objectives

Focus on student retention and academic success
Provide academic support services and assistance
Create an educational plan for each participant
Increase the number of students who graduate and transfer
Provide cultural and educational opportunities
Assist in your holistic growth and development
To establish an understanding of giving back to the community
Our Objective is to generate skills and motivation necessary for success in education beyond high school among low-income and potential first-generation college students and veterans. The goal of the program is to increase the academic performance and motivational levels of eligible enrollees so that such persons may complete secondary school and successfully pursue postsecondary educational programs.
TVCs Programs and Activities

Academic Enrichment / Study Skills Session / SAT ACT Prep
TVC College Access Program
The Excellence for Potomac High School Students: "Rites of Passage" program (EPHSRPP)
Our yearly Networking Brunch for our High School Students and College Student Scholars
Our yearly Cookout/Banquet to Highlight hardworking students and our Community service activities
Our Summer programs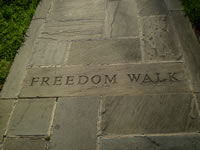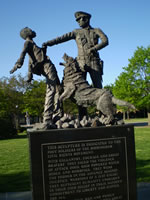 Thank you very much for your interest in becoming involved in The Village Connection (TVC) Programs. The mentoring calendar year begins in August and continues throughout the school year. See Our 2011 Calendar on the home page.
Please read below for more information and to sign up to volunteer. If you have additional questions please forward an email to the_village1@msn.com and info@theconnectedvillage.org and fill out the online information form on the home page
About Us/Legacy
A fierce advocate for children, Avis White Thomas co-founded The Village Connection (TVC) in 2007. The Village Concept (based on the legacy of the matriarchs in her family-her mother Juanita Tillman White, and maternal grandmother Emma Williams)is something that was part of her neighboorhood in the early 1970's. The Village Connection's roots go back generations during which the foundation of giving back to the community was firmly established.
As a native Washingtonian, after growing up in Southeast Washington (Wards 7 and 8) and attending DC Public Schools, Avis moved to Prince George's County, Maryland with her mother and siblings where she attended school there. Avis also attended Towson University, Howard University and graduated from Columbia Union College.
During the late 80's, in the basement of her home, Avis initiated what she intended to be a yearly Heritage Program for the community, that would galvanize the entire audience while enriching the lives of students by creating an understanding and appreciation of their identity. This goal was accomplished through providing meaningful educational and cultural experiences.
---
Enriching Academic Programs at Prince George's Community College

The academic divisions sponsor a number of programs that enrich the academic experience at Prince George's Community College. Three of these special programs are outlined here. For further information, please follow the links.
The Hillman Entrepreneurs Program
is a generous scholarship funded by the Hillman family for students who are interested in becoming entrepreneurs by continuing their education at the University of Maryland College Park.
The Honors Program is a selective program that includes full scholarships and guaranteed admission to designated four year colleges.

The Honors Academy


is designed for academically outstanding students who are interested in a rigorous program of academic excellence, intellectual development, leadership and community service. Honors Academy scholars may hold dual admission in Prince George's Community College and a participating four-year college or university.



The Collegian Centers

are academic organizations, similar to student clubs, that promote academic discourse and exploration across six topical disciplines.
---
Our Programs
Since 2007, TVC has grown into a year-round, comprehensive academic institution that works as an independent partner with some of the more resource challenged inner-city D.C. and surrounding Maryland and Virginia area public high schools. Through a committed network of volunteers and supporters, like you, TVC provides students with college preparation and life skills through mentoring, a career preparation program, which introduces our students to career development tools like financial literacy workshops, resume workshops, seminars on navigating a professional work environment and SAT preparation. Since 2007, TVC has helped send more than 120 DC Metropolitan area students to college. The vast majority of whom are the first in their family to attend college and come from a single parent household.
Mentors

The mentoring program is a key component to helping high school seniors navigate the college application and financial aid process. Another major goal of our mentoring program is the building of bridges of trust and understanding between our students and members of the greater Washington region's business and political communities. Our program pairs a D.C. public high school student with a member of the region's business or political community. Mentors help students set academic and career goals, research potential colleges and universities and guide them through the college application process.
Full Time Mentors
Note: All perspective staff and mentors must go through an application and criminal background process .
One of the best rewards of being a full-time mentor is helping a promising high school student realize his or her academic and professional career potential. Being a full-time mentor means making a commitment to your student and your overall community. It's a privilege that should not be taken lightly and one that offers a number of satisfying rewards. Your role, while it may be challenging at times, comes with the real prospect of not only positively impacting the life of a high school student, but of having an equally profound impact on your own life.
Mentors are people who have made a personal commitment to help these students. Students are not just meeting "business people", they are experiencing a relationship with someone who has volunteered his or her time to meet students. The students are experiencing community as a member, and are realizing the benefits the community has to offer. This involvement ultimately strengthens the entire community.
TVC also organizes networking events for alumni and other interested individuals. These events feature speakers who are leaders in the business and political worlds.
Back Up Mentors and Logistical Volunteers
Individuals who are not able to commit to serving as full-time mentors should consider signing up to serve as back up mentors or logistical volunteers. Stand-in mentors will be called upon in the event that a regular mentor is unable to make a regularly scheduled workshop.
The Village Connection's goal is to provide a wide range of character building experiences for our youth. Our program is alway's in need of quality mentors, please forward an email to info@theconnectedvillage.org for further correspondence.
A 501 c 3 Tax Exempt Charitable Organization.


---




Contact Us!



THE VILLAGE CONNECTION College Access Programs
P.O. BOX 1232
TEMPLE HILLS, MARYLAND 20748

Call "1-877-205-6833"
to leave message


"DO WHAT YOU HAVE TO DO NOW,
SO YOU CAN DO WHAT YOU WANT TO DO LATER"
A Quote from the Movie, "The Great Debaters"